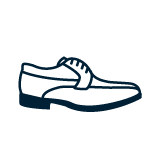 Men's Smart Shoes
This category is currently under development. This means that we haven't had the time to make it as good as we would like to, and therefore some products and prices may be missing.
Shoes made of leather, fabric, wool and many other materials from manufacturers such as Dr. Martens, Patagonia and Bjorn Borg. Compare prices from 90 shops in this category.
This category is also known as Loafers.