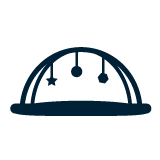 Baby Gyms & Play Mats
This is an automatic category. We haven't put any effort into making it complete yet, but it automatically shows products and prices that our computer system has found. If we notice that you like and use this category, we will happily add more products and functionalities.
A baby gym is a comfortable and stimulating place for the youngest children. Many models have a soft surface and toys hung up within reach. Baby gyms help the child to develop their motor skills and stimulate play. Washable fabrics make it easier to keep your baby gym clean. Some models are small enough to fit in the crib or on the changing table. Compare prices from 25 shops in this category.