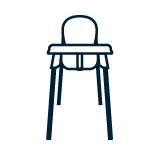 Highchairs & Booster Seats
This is an automatic category. We haven't put any effort into making it complete yet, but it automatically shows products and prices that our computer system has found. If we notice that you like and use this category, we will happily add more products and functionalities.
High-chairs that can be mounted directly to the table. There are also models with adjustable heights. Choose between features like an integrated belt, a footrest, a folded design and adjustable height. Compare prices from 45 shops in this category.