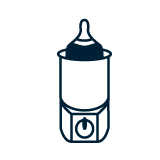 Bottle Warmers & Sterilisers
This is an automatic category. We haven't put any effort into making it complete yet, but it automatically shows products and prices that our computer system has found. If we notice that you like and use this category, we will happily add more products and functionalities.
Bottle warmers make it easier to heat breast milk without losing the important nutrients. A built-in steriliser makes it easier to clean the bottle and BPA-free models do not have hormone-releasing substances. An automatic shut-off provides the perfect temperature and a light indicator shows when the breast milk is heated. Compare prices from 25 shops in this category.