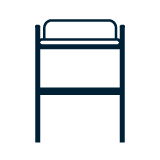 My Babiie Baby Changing Units
Changing units can be placed on the floor or on a table. Many models have built-in storage facilities. There are models that can be mounted on the wall. Some models are collapsible to take less space, and an accompanying changing pad makes it more comfortable for the child. Compare prices from 26 shops in this category.
This category is also known as Changing tables.