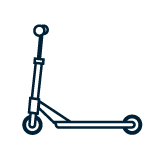 Zinc Sports Scooters
Scooters and electric scooters for the street and the skate park. Electric scooters are large, self-propelled models, while the classic scooter needs the help of the user to move forward. Choose the quality of the wheels' bearings, how many wheels you want, and frame material. Handbrake, foot brake, and a bell increase the safety. An adjustable steering wheel makes the ride more comfortable. Compare prices from 59 shops in this category.
This category is also known as Kick scooters.