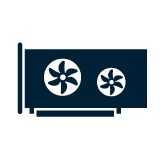 Gigabyte Graphics Cards
Graphics cards that connect to the motherboard via PCI Express. Filter on characteristics such as manufacturer, graphics processor, and memory capacity. Factory overclocking and aftermarket coolers are desirable for gaming. If you have a small chassis, low profile graphic cards are preferable as they take less space. Keep in mind that the graphics card performance should be used with an equivalent processor for maximum use. Compare prices from 67 shops in this category.
This category is also known as PCI-E Graphics Cards.
| | | Product | Lowest price | | User rating | Rank | Graphics processor | Memory capacity | Memory type | |
| --- | --- | --- | --- | --- | --- | --- | --- | --- | --- | --- |
| | | Graphics Card | 3 | | | 4 | GeForce RTX 3080 | 10GB | GDDR6X | |
| | | Graphics Card | 5 | | | 7 | GeForce GTX 1660 Super | 6GB | GDDR6 | |
| | | Graphics Card | 6 | | | 8 | GeForce RTX 3090 | 24GB | GDDR6X | |
| | | Graphics Card | 3 | | | 10 | GeForce RTX 3060 Ti | 8GB | GDDR6 | |
| | | Graphics Card | 3 | | | 13 | GeForce RTX 3070 | 8GB | GDDR6 | |
| | | Graphics Card | 4 | | | 17 | GeForce RTX 3080 Ti | 12GB | GDDR6X | |
| | | Graphics Card | 7 | | | 19 | Radeon RX 6900 XT | 16GB | GDDR6 | |
| | | Graphics Card | 2 | | | 21 | GeForce GTX 1660 Super | 6GB | GDDR6 | |
| | | Graphics Card | 2 | | | 22 | GeForce RTX 3070 Ti | 8GB | GDDR6 | |
| | | Graphics Card | 3 | | | 23 | GeForce RTX 3060 Ti | 8GB | GDDR6 | |
| | | Graphics Card | 5 | | | 25 | GeForce RTX 3070 | 8GB | GDDR6 | |
| | | Graphics Card | 5 | | | 27 | GeForce RTX 3060 | 12GB | GDDR6 | |
| | | Graphics Card | 3 | | | 29 | Radeon RX 6600 XT | 8GB | GDDR6 | |
| | | Graphics Card | 1 | | | 33 | GeForce RTX 2060 | 6GB | GDDR6 | |
| | | Graphics Card | 1 | | | 36 | GeForce RTX 2070 | 8GB | GDDR6 | |
| | | Graphics Card | 2 | | 1 user review | 38 | GeForce GTX 1070 | 8GB | GDDR5 | |
| | | Graphics Card | 2 | | | 41 | Radeon RX 6700 XT | 12GB | GDDR6 | |
| | | Graphics Card | 4 | | | 53 | Radeon RX 6800 XT | 16GB | GDDR6 | |
| | | Graphics Card | 4 | | | 54 | GeForce RTX 3060 Ti | 8GB | GDDR6 | |
| | | Graphics Card | 4 | | | 55 | GeForce RTX 3070 | 8GB | GDDR6 | |
| | | Graphics Card | 4 | | | 59 | Radeon RX 6800 | 16GB | GDDR6 | |
| | | Graphics Card | | | | 62 | GeForce RTX 2060 Super | 8GB | GDDR6 | |
| | | Graphics Card | 2 | | | 69 | GeForce RTX 2080 | 8GB | GDDR6 | |
| | | Graphics Card | 5 | | | 70 | GeForce RTX 3070 Ti | 8GB | GDDR6 | |
| | | Graphics Card | 4 | | | 82 | GeForce RTX 3080 Ti | 12GB | GDDR6X | |
| | | Graphics Card | 4 | | | 93 | GeForce RTX 3060 | 12GB | GDDR6 | |
| | | Graphics Card | 3 | | | 95 | Radeon RX 6800 XT | 16GB | GDDR6 | |
| | | Graphics Card | 2 | | | 98 | Radeon RX 580 | 8GB | GDDR5 | |
| | | Graphics Card | 5 | | | 100 | GeForce RTX 3090 | 24GB | GDDR6X | |
| | | Graphics Card | 4 | | | 101 | GeForce RTX 3080 | 10GB | GDDR6X | |
| | | Graphics Card | 2 | | | 104 | GeForce RTX 2060 | 6GB | GDDR6 | |
| | | Graphics Card | 6 | | | 106 | GeForce GTX 1660 Ti | 6GB | GDDR6 | |
| | | Graphics Card | 4 | | | 107 | GeForce RTX 3070 | 8GB | GDDR6 | |
| | | Graphics Card | 2 | | | 109 | GeForce GTX 1650 Super | 4GB | GDDR6 | |
| | | Graphics Card | 2 | | | 115 | GeForce RTX 3060 | 12GB | GDDR6 | |
| | | Graphics Card | 4 | | | 122 | Radeon RX 6600 XT | 8GB | GDDR6 | |
| | | Graphics Card | 3 | | | 123 | GeForce RTX 3080 | 10GB | GDDR6X | |
| | | Graphics Card | 2 | | | 129 | GeForce GTX 1060 | 6GB | GDDR5 | |
| | | Graphics Card | 3 | | | 150 | GeForce RTX 3060 Ti | 8GB | GDDR6 | |
| | | Graphics Card | 5 | | | 153 | GeForce RTX 3080 | 10GB | GDDR6X | |
| | | Graphics Card | 3 | | | 160 | GeForce RTX 3060 | 12GB | GDDR6 | |
| | | Graphics Card | 4 | | | 165 | GeForce GTX 1650 | 4GB | GDDR5 | |
| | | Graphics Card | 3 | | | 171 | GeForce RTX 3060 | 12GB | GDDR6 | |
| | | Graphics Card | 3 | | | 185 | GeForce RTX 3080 | 10GB | GDDR6X | |
| | | Graphics Card | 4 | | | 192 | GeForce GTX 1660 | 6GB | GDDR5 | |
| | | Graphics Card | 4 | | | 195 | GeForce RTX 3080 Ti | 12GB | GDDR6X | |
| | | Graphics Card | 2 | | | 196 | GeForce RTX 3090 | 24GB | GDDR6X | |
| | | Graphics Card | 2 | | | 198 | GeForce RTX 3070 Ti | 8GB | GDDR6X | |
| | | Graphics Card | 1 | | | 200 | GeForce RTX 3060 Ti | 8GB | GDDR6 | |
| | | Graphics Card | 3 | | | 216 | GeForce RTX 3080 Ti | 12GB | GDDR6X | |
| | | Graphics Card | 3 | | | 218 | GeForce RTX 3080 Ti | 12GB | GDDR6X | |
| | | Graphics Card | 2 | | | 224 | GeForce RTX 3090 | 24GB | GDDR6X | |
| | | Graphics Card | 3 | | | 226 | Radeon RX 6600 XT | 8GB | GDDR6 | |
| | | Graphics Card | 4 | | | 232 | GeForce GTX 1650 | 4GB | GDDR5 | |
| | | Graphics Card | 3 | | | 233 | GeForce RTX 3060 Ti | 8GB | GDDR6 | |
| | | Graphics Card | 1 | | | 236 | GeForce GTX 1080 | 8GB | GDDR5X | |
| | | Graphics Card | 5 | | | 237 | GeForce RTX 3060 Ti | 8GB | GDDR6 | |
| | | Graphics Card | 4 | | | 243 | GeForce RTX 2060 | 6GB | GDDR6 | |
| | | Graphics Card | 3 | | | 251 | GeForce RTX 3090 | 24GB | GDDR6X | |
| | | Graphics Card | 4 | | | 252 | Radeon RX 6600 | 8GB | | |
| | | Graphics Card | 3 | | | 258 | Radeon RX 6700 XT | 12GB | GDDR6 | |
| | | Graphics Card | 3 | | | 260 | GeForce RTX 3080 | 10GB | GDDR6X | |
| | | Graphics Card | 2 | | | 269 | GeForce RTX 3080 | 10GB | GDDR6X | |
| | | Graphics Card | 2 | | | 271 | GeForce RTX 3060 | 12GB | GDDR6 | |
| | | Graphics Card | 3 | | | 283 | GeForce RTX 3070 Ti | 8GB | GDDR6 | |
| | | Graphics Card | 3 | | | 288 | GeForce RTX 3080 | 10GB | GDDR6X | |
| | | Graphics Card | 7 | | | 293 | GeForce GTX 1050 Ti | 4GB | GDDR5 | |
| | | Graphics Card | 2 | | | 317 | GeForce RTX 3090 | 24GB | GDDR6X | |
| | | Graphics Card | 6 | | | 324 | GeForce GT 1030 | 2GB | GDDR5 | |
| | | Graphics Card | 4 | | | 325 | GeForce GTX 1050 Ti | 4GB | GDDR5 | |
| | | Graphics Card | 4 | | | 326 | GeForce RTX 3060 Ti | 8GB | GDDR6 | |
| | | Graphics Card | 1 | | | 329 | GeForce GTX 970 | 4GB | GDDR5 | |
| | | Graphics Card | 2 | | | 336 | GeForce GTX 1650 | 4GB | GDDR6 | |
| | | Graphics Card | 1 | | | 352 | GeForce RTX 2080 Ti | 11GB | GDDR6 | |
| | | Graphics Card | 1 | | | 362 | GeForce RTX 2060 | 6GB | GDDR6 | |
| | | Graphics Card | 9 | | | 374 | GeForce GT 1030 | 2GB | DDR4 | |
| | | Graphics Card | 7 | | | 380 | Radeon RX 6900 XT | 16GB | GDDR6 | |
| | | Graphics Card | 2 | | | 381 | GeForce RTX 3080 Ti | 12GB | GDDR6X | |
| | | Graphics Card | 4 | | | 388 | GeForce GTX 1650 | 4GB | GDDR6 | |
| | | Graphics Card | 1 | | | 390 | GeForce GTX 1070 Ti | 8GB | GDDR5 | |
| | | Graphics Card | 2 | | | 391 | GeForce RTX 3090 | 24GB | GDDR6X | |
| | | Graphics Card | 2 | | | 392 | GeForce RTX 3070 | 8GB | GDDR6 | |
| | | Graphics Card | 1 | | | 398 | GeForce RTX 2080 | 8GB | GDDR6 | |
| | | Graphics Card | 4 | | | 424 | GeForce GTX 1050 Ti | 4GB | GDDR5 | |
| | | Graphics Card | 1 | | | 442 | Radeon RX 580 | 8GB | GDDR5 | |
| | | Graphics Card | 3 | | | 459 | GeForce GTX 1660 Super | 6GB | GDDR6 | |
| | | Graphics Card | 2 | | | 466 | Radeon RX 5700 XT | 8GB | GDDR6 | |
| | | Graphics Card | 1 | | | 479 | GeForce RTX 3090 | 24GB | GDDR6X | |
| | | Graphics Card | 1 | | | 481 | GeForce GTX 1650 Super | 4GB | GDDR6 | |
| | | Graphics Card | 1 | | | 483 | GeForce GTX 1650 Super | 4GB | GDDR6 | |
| | | Graphics Card | 2 | | | 485 | GeForce RTX 3060 Ti | 8GB | GDDR6 | |
| | | Graphics Card | 2 | | | 490 | GeForce RTX 2070 Super | 8GB | GDDR6 | |
| | | Graphics Card | 5 | | | 491 | Radeon RX 6700 XT | 12GB | GDDR6 | |
| | | Graphics Card | 2 | | | 496 | GeForce RTX 3080 | 10GB | GDDR6X | |
| | | Graphics Card | 3 | | | 501 | GeForce GTX 1650 | 4GB | GDDR6 | |
| | | Graphics Card | 1 | | | 507 | GeForce GTX 1060 | 6GB | GDDR5 | |
| | | Graphics Card | 1 | | | 508 | GeForce GTX 1650 | 4GB | GDDR6 | |
| | | Graphics Card | 2 | | | 517 | GeForce RTX 3070 | 8GB | GDDR6 | |
| | | Graphics Card | 1 | | | 523 | GeForce RTX 2070 | 8GB | GDDR6 | |
| | | Graphics Card | 2 | | | 525 | GeForce RTX 3070 | 8GB | GDDR6 | |