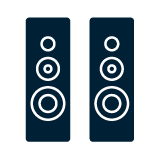 PC Speakers
This is an automatic category. We haven't put any effort into making it complete yet, but it automatically shows products and prices that our computer system has found. If we notice that you like and use this category, we will happily add more products and functionalities.
Computer speakers with wired or wireless connection, that complements your headphones. Select if you need an included remote control, Bluetooth or NFC support. You can also select the number of audio channels, if the speakers should handle mono, stereo or surround sound. There are also computer speakers with docking stations for your mobile phone, if needed. Compare prices from 119 shops in this category.
This category is also known as Computer Speakers or Desktop Speakers.
Product
Lowest price

User rating
Rank
Number of speakers
USB
Power per channel (RMS)

PC Speakers

4

1



2.0

No

PC Speakers

27

2



5.1

No

67 W

7

6

PC Speakers

16

3



2.1

Yes

30 W

PC Speakers

17

4



2.0

Yes

15 W

8

2

PC Speakers

10

5



2.1

No

PC Speakers

8

6



2.1

Yes

8 W

PC Speakers

18

7



2.1

No

15 W

PC Speakers

15

8



2.0

Yes

50 W

1

PC Speakers

24

9



2.0

Yes

1

PC Speakers

9

10



2.0

No

6

2

PC Speakers

32

11



2.0

Yes

0.6 W

PC Speakers

7

12



2.0

No

PC Speakers

1

13



2.1

6 W

1

PC Speakers

2

14



5.1

No

60 W

PC Speakers

16

15



2.1

Yes

10 W

PC Speakers

24

16



2.0

No

5 W

PC Speakers

25




2 user reviews

17



2.1

No

8 W

PC Speakers

3

18



2.0

No

74 W

8

1

PC Speakers

38

19



2.0

No

5 W

PC Speakers

1

20



2.1

No

10 W

1

PC Speakers

2

21



2.1

60 W

PC Speakers

5

22



2.0

Yes

20 W

PC Speakers

2

23



2.0

65 W

PC Speakers

34

24



2.0

Yes

0.6 W

PC Speakers

10

25



2.0

No

50 W

PC Speakers

16

26



2.0

Yes

3 W

PC Speakers

1

27



2.1

No

35 W

PC Speakers

7

28



2.1

No

60 W

PC Speakers

13

29



2.0

Yes

PC Speakers

13

30



2.0

Yes

4.4 W

PC Speakers

1

31



2.0

Yes

PC Speakers

10

32



2.0

No

16 W

8

2

PC Speakers

1

33



5.1

No

2 W

PC Speakers

14

34



2.0

Yes

15 W

PC Speakers

4

35



2.1

No

35 W

PC Speakers

6

36



2.1

80 W

PC Speakers

9

37



2.0

No

40 W

PC Speakers

3

38



2.0

No

37 W

PC Speakers

25

39



2.1

No

35 W

7

6

PC Speakers

6

40



2.1

Yes

PC Speakers

1

41



2.0

Yes

PC Speakers

6

42



2.0

No

14 W

PC Speakers

1




1 user review

43



5.1

No

8 W

8

2

PC Speakers

1

44



2.1

No

8

1

PC Speakers

37

45



2.0

No

3 W

PC Speakers

27

46



2.0

No

2.5 W

PC Speakers

1

47



2.1

Yes

64 W

PC Speakers

3

48



5.1

Yes

75 W

PC Speakers

3

49



2.0

No

PC Speakers

1

50



5.1

No

12 W

PC Speakers

1

51



2.0

Yes

3 W

PC Speakers

3

52



5.1

10 W

PC Speakers

1

53



5.1

No

8 W

6

1

PC Speakers

30

54



2.1

No

5 W

6

1

PC Speakers

1

55



2.1

No

40 W

PC Speakers

6

56



2.1

No

PC Speakers

7

57



5.1

Yes

11 W

PC Speakers

3

58



2.0

12 W

PC Speakers

1

59



2.1

No

15 W

PC Speakers

6

60



2.0

No

PC Speakers

1

61



5.1

No

PC Speakers

1

62



2.1

No

8 W

PC Speakers

63



5.1

No

7.4 W

8

2

PC Speakers

1

64



2.1

No

PC Speakers

1

65



2.0

No

2.4 W

PC Speakers

3

66



2.0

Yes

0.6 W

PC Speakers

1

67



5.1

No

PC Speakers

1

68



2.1

No

4 W

PC Speakers

1

69



2.1

PC Speakers

5

70



2.0

No

5 W

1

PC Speakers

1

71



2.0

No

25 W

PC Speakers

2

72



2.1

No

18 W

PC Speakers

1

73



2.1

Yes

12 W

PC Speakers

12

74



2.0

Yes

7 W

PC Speakers

9

75



2.0

No

5 W

PC Speakers

1

76



2.1

Yes

2 W

PC Speakers

7




1 user review

77



2.1

No

9 W

PC Speakers

2

78



2.0

No

9 W

PC Speakers

1

79



2.0

No

20 W

PC Speakers

2

80



2.1

No

11 W

8

1

PC Speakers

3

81



2.0

Yes

PC Speakers

10

82



2.1

No

8 W

PC Speakers

1

83



2.0

Yes

5 W

1

PC Speakers

1

84



2.1

No

6 W

1

PC Speakers

3

85



2.1

No

2 W

PC Speakers

12

86



2.0

Yes

PC Speakers

2

87



2.0

136 W

PC Speakers

3

88



2.0

No

PC Speakers

1

89



2.0

No

7 W

PC Speakers

15

90



2.1

No

60 W

PC Speakers

1

91



2.1

No

6 W

5

3

PC Speakers

5

92



5.1

No

90 W

PC Speakers

1

93



2.1

No

9 W

PC Speakers

2

94



5.1

No

7 W

PC Speakers

5

95



2.0

Yes

4 W

PC Speakers

1

96



5.1

No

5 W

PC Speakers

1

97



2.1

No

8 W

PC Speakers

1

98



2.0

No

PC Speakers

2

99



2.1

No

5.5 W

PC Speakers

1

100



2.1

No

15 W