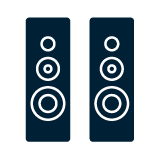 Media-Tech PC Speakers
Computer speakers with wired or wireless connection, that complements your headphones. Select if you need an included remote control, Bluetooth or NFC support. You can also select the number of audio channels, if the speakers should handle mono, stereo or surround sound. There are also computer speakers with docking stations for your mobile phone, if needed. Compare prices from 111 shops in this category.
This category is also known as Computer Speakers or Desktop Speakers.