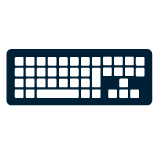 Cooler Master Keyboards
Keyboards can be found in the price range of a few quid for a well- working standard keyboard up to hundreds of pounds for a wireless, ergonomically designed keyboard from one of the top end manufacturers. Find the best prices on keyboards from renowned brands like Acer, Belkin or KeySonic here. Compare prices from 127 shops in this category.
This category is also known as Computer Keyboards or PC Keyboards.
| | | Product | Lowest price | | User rating | Rank | Connection | Type of technology | Character layout | |
| --- | --- | --- | --- | --- | --- | --- | --- | --- | --- | --- |
| | | Keyboard | 4 | | | 138 | Wired | Mechanical | English | |
| | | Keyboard | 1 | | | 185 | Wired | Mechanical | English | |
| | | Keyboard | 7 | | | 216 | Wired | Mechanical | French | |
| | | Keyboard | 13 | | | 231 | Wireless | Mechanical | English | |
| | | Keyboard | 1 | | | 244 | Wireless | Mechanical | English | |
| | | Keyboard | 1 | | | 263 | Wired | Mechanical | English | |
| | | Keyboard | 16 | | | 291 | Wired | Mechanical | English | |
| | | Keyboard | 2 | | | 518 | Wired | Mechanical | English | |
| | | Keyboard | 1 | | | 615 | Wired | Mechanical | English | 1 |
| | | Keyboard | 3 | | | 633 | Wired | Mechanical | English | |
| | | Keyboard | 1 | | | 661 | | Mechanical | Italian | |
| | | Keyboard | 1 | | | 704 | Wired | Mechanical | French | |
| | | Keyboard | 1 | | | 710 | Wired | Mechanical | English | |
| | | Keyboard | 1 | | | 755 | Wired | Mechanical | English | |
| | | Keyboard | 1 | | | 783 | Wired | Mechanical | English | |
| | | Keyboard | 5 | | | 821 | Wired | Mechanical | English | |
| | | Keyboard | 1 | | | 1345 | Wired | Mechanical | French | |
| | | Keyboard | 1 | | | 1371 | Wired | Mechanical | English | |
| | | Keyboard | 15 | | | 1411 | Wired | Mechanical | English | |
| | | Keyboard | 2 | | | 1412 | | Mechanical | English | |
| | | Keyboard | 11 | | | 1413 | Wired | Mechanical | English | |
| | | Keyboard | 1 | | | 1454 | Wired | Mechanical | French | |
| | | Keyboard | 3 | | | 1473 | Wired | Mechanical | English | |
| | | Keyboard | 1 | | | 1477 | Wired | Mechanical | English | |
| | | Keyboard | 2 | | | 1494 | | Mechanical | English | |
| | | Keyboard | 1 | | | 1498 | Wired | Mechanical | English | |
| | | Keyboard | 1 | | | 1527 | Wired | Mechanical | English | |
| | | Keyboard | 1 | | | 1537 | Wired | Mechanical | English | |
| | | Keyboard | 1 | | | 1547 | Wired | Mechanical | English | |
| | | Keyboard | | | | 1561 | Wired | Mechanical | English | |
| | | Keyboard | 1 | | | 1583 | | Mechanical | Spanish | |
| | | Keyboard | 1 | | | 1610 | Wired | | English | |
| | | Keyboard | 1 | | | 1658 | Wired | Mechanical | English | |
| | | Keyboard | 1 | | | 1695 | Wired | Mechanical | English | |
| | | Keyboard | 1 | | | 1799 | Wired | Mechanical | French | |
| | | Keyboard | 7 | | | 1852 | | | English | |
| | | Keyboard | 1 | | | 1925 | | Mechanical | French | |