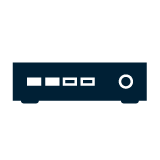 Ubiquiti Networks Routers
The router connects the computers in a network and can for example allow several computers to share a single broadband connection. Routers, with or without built-in modem are available, these can be found in the category ADSL products. Compare prices from 96 shops in this category.
This category is also known as Internet Routers, Network Routers or WiFi Router.
| | | Product | Lowest price | | User rating | Rank | Wireless network | 5GHz | Data link layer | |
| --- | --- | --- | --- | --- | --- | --- | --- | --- | --- | --- |
| | | Router | 23 | | | 7 | No | | Ethernet, +3 | |
| | | Router | 14 | | | 32 | Yes | Yes | Ethernet, +7 | |
| | | Router | 9 | | | 46 | Yes | Yes | Ethernet, +7 | |
| | | Router | 16 | | | 56 | Yes | Yes | Ethernet, +8 | |
| | | Router | 4 | | | 68 | No | | Ethernet, +2 | |
| | | Router | 9 | | | 78 | Yes | Yes | Ethernet, +8 | |
| | | Router | 20 | | | 84 | No | | Ethernet, +2 | |
| | | Router | 25 | | | 94 | No | | Ethernet, +3 | |
| | | Router | 8 | | | 98 | Yes | Yes | Ethernet, +7 | |
| | | Router | 15 | | | 109 | No | | Ethernet, +2 | |
| | | Router | 15 | | | 119 | No | | Ethernet, +2 | |
| | | Router | 7 | | | 134 | Yes | Yes | Ethernet, +7 | |
| | | Router | 7 | | | 221 | Yes | Yes | Ethernet, +7 | |
| | | Router | 5 | | | 229 | No | | Ethernet, +2 | |
| | | Router | 10 | | | 269 | Yes | Yes | Ethernet, +7 | |
| | | Router | 7 | | | 316 | No | | Ethernet, +3 | |
| | | Router | 4 | | | 360 | No | | Ethernet, +2 | |
| | | Router | 2 | | | 425 | | | Ethernet, +3 | |
| | | Router | 2 | | | 436 | Yes | No | Ethernet, +6 | |
| | | Router | 4 | | | 450 | No | | Ethernet, +3 | |
| | | Router | 3 | | | 468 | No | | Ethernet, +2 | |
| | | Router | 1 | | | 552 | No | | Ethernet, +2 | |
| | | Router | 1 | | | 590 | Yes | | Ethernet, +7 | |
| | | Router | 1 | | | 596 | Yes | No | Ethernet, +6 | |
| | | Router | 2 | | | 597 | No | | Ethernet, +2 | |
| | | Router | 1 | | | 614 | Yes | | Ethernet, +2 | |
| | | Router | 3 | | | 652 | Yes | | Ethernet, +2 | |
| | | Router | 10 | | | 681 | Yes | | Ethernet, +3 | |
| | | Router | 3 | | | 697 | Yes | Yes | Ethernet, +7 | |
| | | Router | 5 | | | 765 | Yes | | Gigabit Ethernet | |
| | | Router | 1 | | | 931 | No | | Ethernet, +3 | |