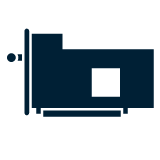 Dynamode Wireless Network Adapters
A wireless network adapter is used to connect to WiFi. Most new computers already have support for wireless networking. In this category you can find adaptors from manufacturers such as D-Link, Netgear, Linksys and Popcorn Hour. Compare prices from 85 shops in this category.
This category is also known as WiFi Adapter, WiFi Dongle or Wireless Adapter.
| | | Product | Lowest price | | User rating | Rank | Connection | Total data transfer rate (theoretical) | Data link layer | |
| --- | --- | --- | --- | --- | --- | --- | --- | --- | --- | --- |
| | | Wireless Network Adapter | 2 | | | 78 | | | | |
| | | Wireless Network Adapter | 8 | | | 96 | USB | 150 Mbit/s | IEEE 802.11b, +2 | |
| | | Wireless Network Adapter | 1 | | | 101 | | | | |
| | | Wireless Network Adapter | 8 | | | 125 | USB | | IEEE 802.11b, +2 | |
| | | Wireless Network Adapter | 4 | | | 126 | ExpressCard | 300 Mbit/s | IEEE 802.11b, +2 | |
| | | Wireless Network Adapter | 2 | | | 137 | USB | 150 Mbit/s | IEEE 802.11b, +2 | |
| | | Wireless Network Adapter | 2 | | | 157 | USB | 150 Mbit/s | IEEE 802.11b, IEEE 802.11g | |
| | | Wireless Network Adapter | 1 | | | 159 | USB | 300 Mbit/s | IEEE 802.11b, +2 | |
| | | Wireless Network Adapter | 2 | | | 190 | USB | 150 Mbit/s | IEEE 802.11b, +2 | |
| | | Wireless Network Adapter | 5 | | | 228 | | | | |
| | | Wireless Network Adapter | 2 | | | 243 | Mini PCI-Express | 300 Mbit/s | IEEE 802.11b, +2 | |
| | | Wireless Network Adapter | 1 | | | 284 | USB | | IEEE 802.11b, IEEE 802.11g | |
| | | Wireless Network Adapter | 1 | | | 285 | USB | 54 Mbit/s | IEEE 802.11b, IEEE 802.11g | |
| | | Wireless Network Adapter | 1 | | | 302 | | | | |
| | | Wireless Network Adapter | 3 | | | 308 | PCI | 300 Mbit/s | IEEE 802.11b, +2 | |
| | | Wireless Network Adapter | 1 | | | 339 | USB | 150 Mbit/s | IEEE 802.11b, +2 | |
| | | Wireless Network Adapter | 2 | | | 341 | PCI | 54 Mbit/s | IEEE 802.11b, IEEE 802.11g | |