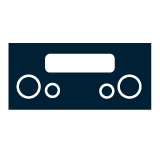 Pioneer Surround Sound Amplifiers
The surround amplifier (usually 5.1 or 7.1) is the heart of a home cinema system, it decodes Dolby, Dolby Digital, DTS sound etc. and handles the image. A tip is to make sure there are proper HDMI connections. Some even has built-in radio. Compare prices from 44 shops in this category.
This category is also known as 5.1 Amplifiers or 7.1 Amplifiers.