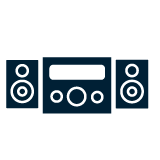 Pure Digital Audio Systems
A complete stereo system including speakers for those who do not want to put together their own, or have limited space. We list audio systems in all price ranges.
From manufacturers like Philips, Yamaha, Sony, Tivoli Audio, JVC and Nad, to name a few. Compare prices from 119 shops in this category.