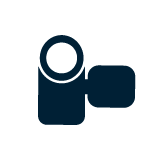 Philips Video Cameras
The classic video camera, which has created so many strained smiles at family parties and school events in recent decades is still a best-seller. Nowadays, video tapes are not used for recording, instead flash memories, hard disks or writeable DVDs are used. Popular brands include Sony, Canon, JVC and Panasonic. Compare prices from 118 shops in this category.
This category is also known as Camcorder.