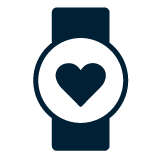 Philips Fitness Watches
Here you'll find durable pulse and sports watches adapted for training. Many models have a built-in heart rate monitors or pulse band support, can be connected to the mobile phone to display messages and receive calls, and have built-in GPS. Choose in the filter which built-in features you need, if you want a colour display and if the model should be completely waterproof. Compare prices from 142 shops in this category.
This category is also known as Exercise Watch or Fitness Tracker.