10/01/18
Dishwashers – an everyday white goods hero
Many people see the dishwasher as a symbol of everyday luxury. It makes household chores easier, there is no nagging about whose turn it is to clean the dishes, there are no issues with dry hands and there are no plates left in the sink. In the following, we bring some light to topics you need to consider when buying a dishwasher.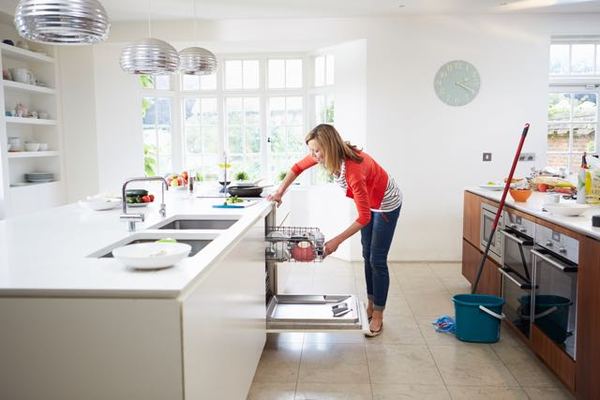 Photo: iStock.com / monkeybusinessimages
First of all, you need to consider the size and the measurements. The most common width is 60 cm, but there is also a standard width of 45 cm for smaller kitchens.
Today, integrated dishwashers are common, with the front of the dishwasher matching the cabinetry. The program settings are at the top of the door instead of on the front. If you don't want an integrated dishwasher, you can instead choose a freestanding model and choose a colour that suits the rest of the kitchen. Most people want all their home appliances in the same colour.
At PriceSpy you can sort and compare dishwashers based on noise levels. The quietest dishwashers have a decibel number of around 39, which is seen as a very quiet machine. Most of the dishwashers found at PriceSpy have a decibel number around 42-48, which is a little higher but still only noticed as a faint background noise. There is thus not much noise difference between a 39- and a 41-decibel dishwasher. Generally speaking, the noise level depends on what items you have loaded the dishwasher with. If a bowl moves in the machine it can easily increase the noise level when water whirls into the bowl during a dishwashing cycle.
An obvious thing to look at when buying a dishwasher, and other appliances, is the energy class. Today, the best energy rating is A+++. A dishwasher with that rating means it consumes less energy than a dishwasher rated A++ and is therefore cheaper to run, as it consumes less energy.
The features of the dishwasher are also important. What water temperature do you prefer, how dry do you want the dishes and how do you prefer to place the cutlery in the machine? At PriceSpy you can sort dishwashers according to all these features. Dishwashers with cutlery baskets are most common, but you can also choose a so-called cutlery tray, which is fitted in the upper part of the machine.
At PriceSpy we list more than 1,500 dishwashers in our dishwasher category.
---
Linnea Kleen